See an Example
Below is a post generated by our artificial intelligence from our news feed from July 2, 2019. This is an example of the kind of post that SixJupiter can publish daily on your site, with ads included and resulting revenue shared.
2019-07-11: Bitcoin Down 10.55%
Bitcoin Price Update
At the time of this writing, Bitcoin's price is $11523.06 US dollars, down approximately 10.55% from the day prior. The down day for Bitcoin yesterday was a reversal from the day before it. Price now stands at 0.93%% above its 20 day moving average, and over the past two weeks, price has been in an an unclear trend. At the moment, it's about 0.93% above its 20 day average price, which is close; staying above the 20 day moving average may be important in terms of sustaining short-term momentum. Alternatively, for those interested in trading ranges that Bitcoin bounces between, its current two week trading range in US dollars is between $9,946.58 and $12,888.29. Its market capitalization currently is estimated to be around $205.59 billion US dollars, while it's market dominance (percent of total crypto market) is estimated to be 65.32%. It should be noted, though, that Bitcoin's dominance has been gradually moving up, reporting an average daily rise of 0.28% over the past 14 days. A rise in dominance may suggest cryptocurrency activity is consolidating on the Bitcoin blockchain; and thus participants of all kinds -- investors, merchants, application developers -- may flock to Bitcoin in increasing numbers.
Find the Bitcoin broker right for you: CoinDirect, Gate, Yobit, Stex, Binance, DDEX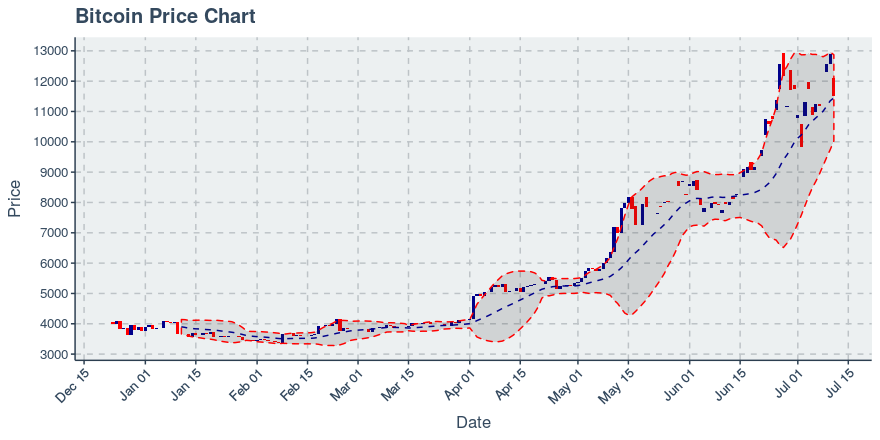 Daily Engagement and Hash Rate Metrics Update
315,664 transactions were added to the Bitcoin blockchain in the previous day. Regarding growth in actual usage of the blockchain for transactions, observe that over the past 7 days daily transactions fallen by just about 3.59%, though this past week the trend should be described as not clear -- at least on a two-week basis. If Bitcoin does not grow transactions, it may need to derive its value as a store of wealth. Yesterday, Bitcoin's average fee per transaction came in at $3.44. Transaction fees have been decreasing by approximately 44.3% per week, while the average transaction size is down 12.03% in US dollars. In other words, transaction sizes are growing substantially slower than transaction fees are, so the fall in fees may still be something to monitor; Bitcoin may be too expensive on a relative basis. Regarding Bitcoin's hash rate, which serves as a measure of the network's computational power, it has managed to trend upwards over the past 30 days. It has been gaining daily by rate of approximately 0.94%. A trend in hash rate that is upwards suggests that mining is becoming more competitive, and that the chain is thus improving. As such, this might enable Bitcoin to attract more high value transactions.
Bitcoin's Wealth Concentration and Activity
3.04% of the 543.89 million Bitcoin wallets holding a positive balance have transacted within the past 30 days. Over 90.76% of the outstanding Bitcoin is held by the top 1% of Bitcoin wallets.
Article by SixJupiter
---